The Butterfly Diaries creative book project is drawing close to completion. For nearly a year, six writers have been working to tell the stories of six Kiwis who survived the experience of being suicidal and found their way to a better place. The first three stories are now complete and excerpts are available for reading and sharing online. More samplers will be loaded as stories are finished.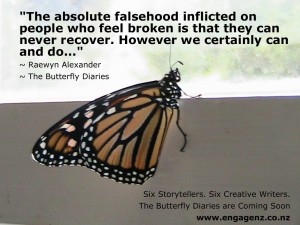 Click here to read The Butterfly Diaries Samplers.
Read excerpts from…
Emerging from the Past Transformed: Raewyn Alexander's creative essay about Mary's Journey
Enough Angels: Owen Bullock's haibun (a prose-poetry cross) about Sean's journey
Breathe and Breathe and Breathe: Phoebe Wright's short story about Brad's journey.
The Butterfly Diaries is proudly produced by CMHRT as part of their Community Treasure Chest resources on the Engage Aotearoa website.