Ko wai au? Who am I?

Ko Puketutu te maunga
Ko Takahue te awa
Ko Pakeha te iwi
Ko Ngāti Apakura taku hoa rangatira te hapū
Nō Te Tai Tokerau ahau
Dr. Miriam Larsen-Barr
BA, PGDipArts, MA (first class hons), DClinPsy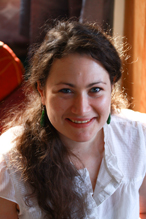 I am a clinical psychologist and family therapist with lived experience and a background in the service-user workforce. My pronouns are she/her. Before my clinical training, I held roles as a support worker in both the mental health and disability sectors, volunteered as a phone counsellor, worked to reduce stigma as part of the Like Minds Like Mine programme, tutored creative writing groups, and created Engage Aotearoa to share the service-user informed resources that grew out of my Master's research. After training as a psychologist, I spent several years working with children and adolescents facing moderate to severe mental health challenges, and now work for ADHB's early psychosis intervention service alongside one day of private practice, and voluntary work as one of the co-founders of Aotearoa Therapists with Lived Experience Network (ATLEN). As a poet, I have a special interest in the way creative arts can be used for therapeutic ends.
I completed all four of my psychology degrees at the University of Auckland. My Master's research evaluated the outcomes of a transdiagnostic anxiety support group called Engage Group that I designed for people who experience anxiety alongside depression, psychosis, or bipolar diagnoses. My doctoral research explored service user experiences of antipsychotic medication from first prescriptions through to attempted discontinuation. I continue to contribute to research in the field of service-user perspectives and medication withdrawal both here in NZ and abroad.
Learn more about my research on Research Gate.
I am registered with the NZ Psychologists Board under the clinical scope of practice, hold a current Annual Practicing Certificate, and take part in regular supervision. I am also a full member of the NZ College of Clinical Psychologists, and belong to several different professional interest groups including the International Institute for Psychiatric Drug Withdrawal, the Building User/Survivor Research Capacity & Leadership Workgroup, and Aotearoa Therapists with Lived Experience Network.