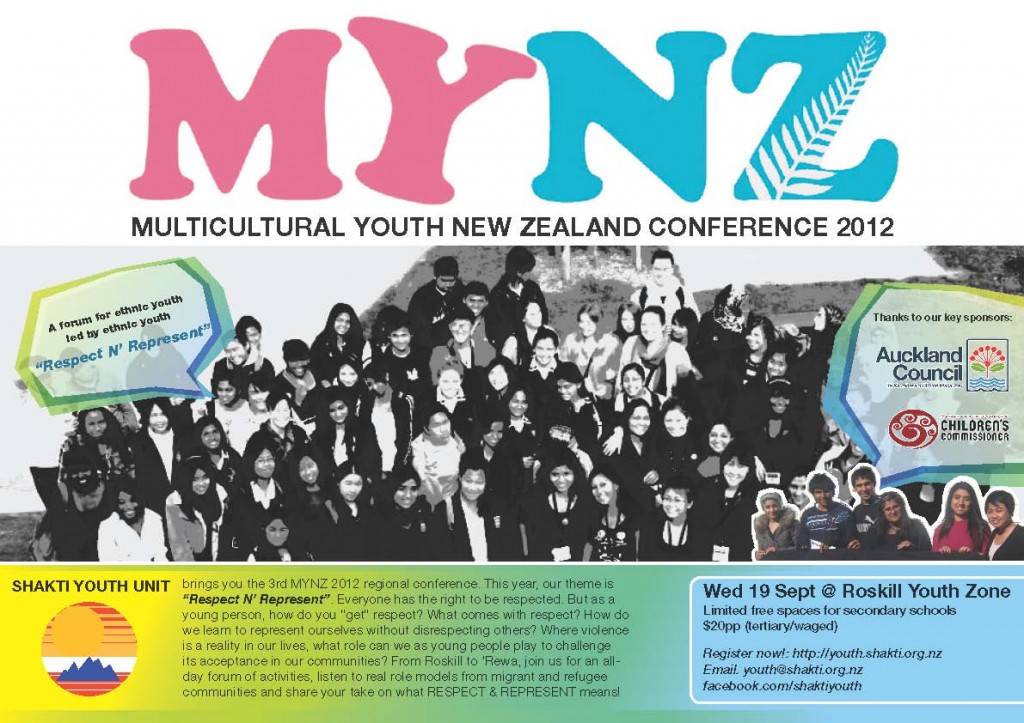 3rd Multicultural Youth New Zealand (MYNZ) Conference 2012
Wed 19th September
Roskill Youth Zone
Open to all young people aged 15 – 24 years
*Free transport for schools sending at least 10 participants*
Last year over 175 young people from schools, Universities and community groups attended this annual forum.This year, MYNZ is themed "Respect N Represent" following feedback from young people that it is often holding respect and dignity that moves you to challenge or change behaviours. The conference aims to encourage youth voices and participation on topics such as:
Youth & Respect: "giving", "earning", "wanting" respect
Listen Up!: Ethnic Youth Motivational Speakers on Surviving Life Obstacles
You Can Do It Yourself!: learning tools to promote positive, respectful relationships
One Voice, Many Voices: youth take on the challenge to promote fair representation.
Register today! Limited spaces available free for secondary school students. PLUS if your school registers ten participants by 3rd September 2012, transport is provided (pick-up and drop-off) for your school!
For more information and to register go to: http://youth.shakti.org.nz
Join the Facebook event: http://www.facebook.com/shaktiyouth#!/events/507535722596341/
Follow on Twitter: http://twitter.com/ShaktiYouth
If you have any questions, phone 09 262 0487 between Mondays to Fridays, from 10 am – 4pm or email youth@shakti.org.nz