"constant glimmers of hope, escape routes and pathways to human dignity."
If you missed it during Mental Health Awareness Week – now is your chance to get along to reTHiNK Possible Worlds for the encore performances at The Basement Theatre. Performance poetry, dance, film and music tell the story of several characters as they navigate the maze of life and rethink their possible worlds.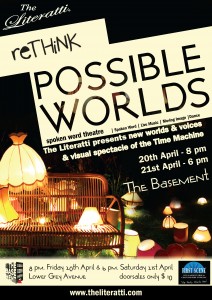 Theatre review called it "Well padded and full. It was like eating a good meal: not so much that we are sore, not so little that we are still hungry"
Don't just think it is the same thing again though…
This time there is The New Worlds pre-show with some of Auckland's up-and-coming performance artists including the winner of the youth Rising Voices poetry slam. Plus The Literatti's invention The Time Machine becomes the newest member of the Possible Worlds cast.
What is The Time Machine? you ask. The Time Machine is an interactive, video installation that allows you to super-impose real-time video of yourself into a projected visual landscape and manipulate the images. The Time Machine debuted at Splore in February, made its second appearance at First Thursdays in March and makes itself firmly at home among Auckland's leading performance poets in April with reTHiNK Possible Worlds, the encore performance.
Tickets are $10 on the door. Find out more on Facebook if you swing that way!
All proceeds go towards fund-raising for The Literatti to take reTHiNK Possible Worlds to Melbourne in October for a Trans-Tasman Mental-Health Awareness Week event as part of The Like Minds Big reTHiNK.