1.    "Mental Notes" Premiere at World Cinema Showcase – Saturday 31 March 2012 at 6:00pm
"Mental Notes" is a feature-length documentary from award-winning filmmaker Jim Marbrook which weaves together testimonials of five survivors from the "very bad old days of mental health care in New Zealand".  One of those interviewed is Toi Ora alumnus and "Blue Messiah" author Peter Finlay. "Mental Notes" premiere screening on Saturday 31 March at 6pm at Rialto Newmarket, Auckland.  "Mental Notes" at World Cinema Showcase – http://worldcinemashowcase.co.nz/mentalnotes.html. "Mental Notes" trailer – http://vimeo.com/38674385
2.    "Recent Work" by Life Drawers of Toi Ora – Thursday 5 April to Friday 4 May 2012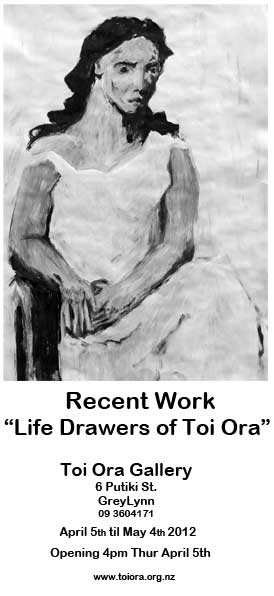 Toi Ora's Thursday morning class of Face & Figure Drawing, tutored by Shannon McKewen, is a bit of an institution.  Now you get to see why with a selection of this class's Summer term output on display in our gallery.
Opening night is on Thursday 5 April, 4pm onward at Toi Ora Gallery, 6 Putiki Street, Grey Lynn.
END OF TERM SPECIAL:  Opening night will also see the return of Toi Ora's legendary end-of-term soirees so brace yourself for music from our house band, the inimitable Toi Ora Express, and nibbles and drinks to celebrate.
3.    Toi Ora feature in "Open Door" on TV3 – Saturday 7 April 2012 at 10:25am
Morningside Productions' "Open Door" series turns its attention to Toi Ora – "a unique creative space in the heart of Auckland city for adults who have experienced mental illness".  In this episode, the show meets some of the artists who have been helped to realise their artistic potential in an environment where the mental health 'label' is put aside.
Toi Ora "Open Door" episode screens on TV3 on Saturday 7 April at 10:25am.
4.    Extra Gentle Reminders
a.    FINAL DAYS!  MUST SEE!  Richard McConnochie and Chris Leavins' "Paintings" exhibition at Toi Ora Gallery, Grey Lynn extended until Tuesday 3 April 2012.
a.    "What's On Your Plate?" group exhibition with James King at Papakura Art Gallery, Papakura until Saturday 7 April 2012.
b.    Andrew Blythe "New Works" exhibition at Corban Estate Art Centre, Henderson until Sunday 15 April 2012.