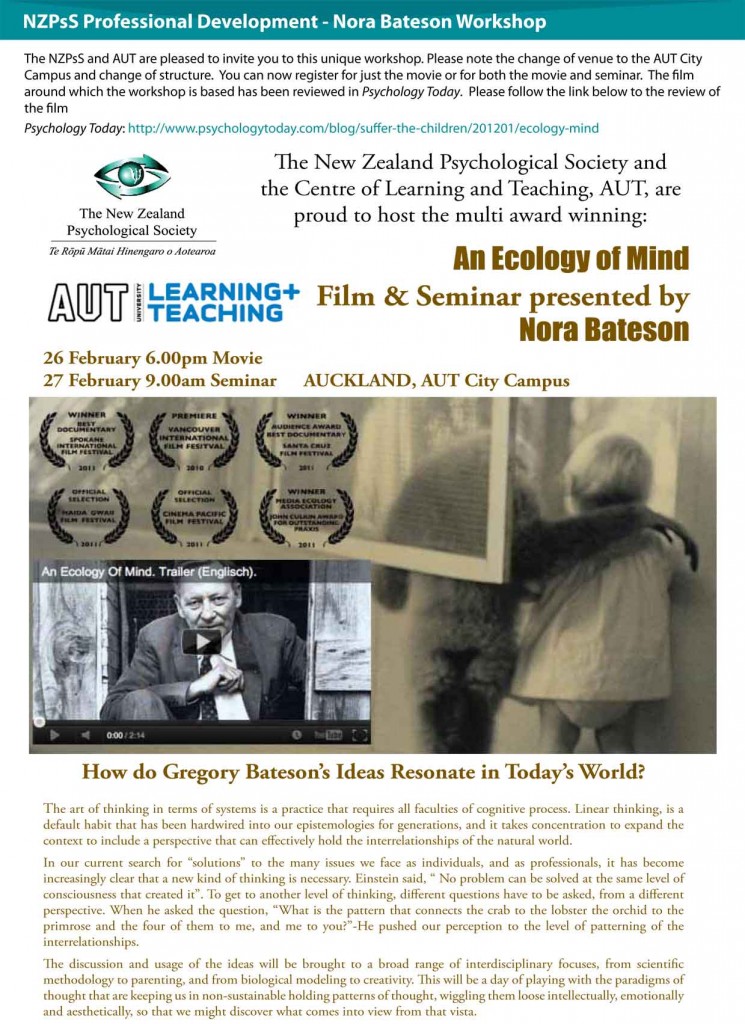 Nora Bateson is the writer, director and producer of the award-winning documentary An Ecology of Mind, a
portrait of her father Gregory Bateson's way of thinking. Currently Nora is travelling around the world with the film holding conversations and seminars with international change-makers, ecologists, anthropologists, psychologists, designers, IT people and countless other groups. Utilizing the film as a tool to introduce some of her father's thinking tools, Nora is engaged in giving her audiences a lens through which to see the world that effects not only the way we see the world, but how we interact with it. In addition to hosting discussions at film festivals from Brazil to Budapest, she is currently writing a book about the practical application of systems thinking and complexity theory in everyday life, entitled, "Small Arcs of Larger Circles". Nora has been a filmmaker, lecturer, and writer in many capacities and calls herself an interloper as she travels between conversations in different disciplines and with different audiences. She has developed curriculum for schools in Northern California, and produced and directed an award winning multimedia projects on intercultural understanding.
Movie screening : 26 February 6pm – 7.30pm, AUT City Campus, St Paul Street
Seminar: 27 February 9.00am, AUT City Campus, St Paul Street: Lunch is at 1pm and the seminar will finish at 4.00pm
Information and map to the specific lecture theatre will be provided later to registered participants.
To Register
Request a registration form from pd@psychology.org.nz
Return your registration form and pay your registration fee.
Send completed form to:
NZPsS, PO Box 4092, Wellington 6140
or fax to: 04 4734889
or scan and email to: pd@psychology.org.nz
Cost
Movie only
NZPsS member + AUT Staff $20.00

Non Member $40.00 

Students $10.00
Movie plus seminar
NZPsS member + AUT Staff $140.00

Non Member $190.00

Students $90.00