"A Day in Action in Aoteroa" is the banner under which concerned community leaders, parents, grandparents, whānau and organisations are marching next Wednesday 13th March to combat child abuse throughout the country. A movement which started last month in Kaitāia has now gathered national support and momentum, with synchronised Hikoi planned in several centres across the country to highlight the plight of children who are being abused, and to kickstart a range of strategies that ordinary people can use in their whānau and communities to stop the abusers and help the victims.
The 'Enough is Enough' movement was sparked by a number of child abuse investigations and convictions in and around Kaitāia, the most horrific being the case of James Parker who abused dozens of young boys over more than a decade. Building on the energy and interest this distressing case generated, local organisers Lissa Kingi-Waiaua and Rueben Taipari, put out the call to mobilise.  As a result, there will be synchronised Hikoi in Kaitāia, Whangarei, Auckland and Hastings on Tuesday 13th March. The date was chosen to coincide with James Parker's appearance in Kaitāia Court for sentencing.
Nationwide Facebook Event Pages: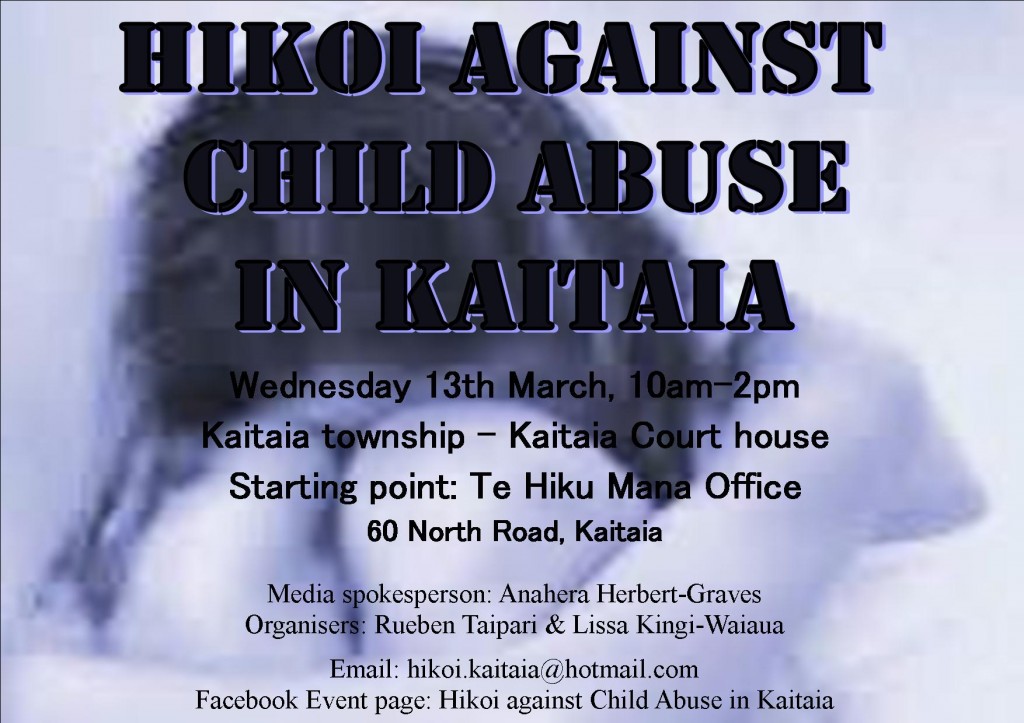 The Kaitāia leg of the Hikoi has been arranged to accommodate the sensitivities of the victims and their whānau, as well as the physical safety and interest of those taking part.  Local Kohanga Reo, Poipoi and other education centres have indicated they will attend with their tamariki.  So too has a a large contingent of kuia kaumātua.  Organisers urge everyone to join and show that Kaitāia does care and is willing to pull together to protect our children.
Kicking off at 10am from the Mana Party's Te Hiku Branch office on North Rd, the Kaitāia Hikoi will make its way along Commerce St, before turning into Redan Rd and moving on to the reserve behind the old Far North District Council offices where the rest of the day's programme will be held. Rueben and Lissa are grateful for the liaison and support they've enjoyed with Police, Court staff, local businesses and volunteers.  They are also deeply grateful for donations of bouncy castles to give the children an outlet for their energies, as well as for donations of drinks, tents, seating, a PA system and an MC to facilitate any speakers. They also hope the Hikoi will be a catalyst for ongoing public forums, practical workshops and other initiatives in Kaitāia and the rest of the country aimed at stopping child abuse and transforming communities into safe places for their most vulnerable members.
KAITAIA HIKOI ROUTE AND INFO:
Meeting point: 9.30am outside Te Hiku Mana Office, 60 North Rd.

Korero: Kaupapa, Safety guidelines, Marshall's, Police, Karakia.

Hikoi commences: 10am

Yellow box: Kuia and kaumatua hook on (Old Pak N Save carpark/Farmers) 

Final destination: Reserve area behind old FNDC building, directly across from Kaitaia District Court. Reserve approved by FNDC.

Kaupapa finishes: 2pm
Local health organisations and whanau service providers have been invited to bring along their shade tents and/or stalls so information is readily available to whanau who maybe seeking help. If you would like to bring along an information stall/tent, please contact Lissa via fb.
There is an open invitation to all kohanga reo, play centres and kura's to bring along some activities for the tamariki, coloring in, games, guitars, waiata etc. We've also provided some bouncy castles and music from Te Hiku Media – TAI FM. All tamariki and mokopuna MUST be supervised by an Adult / Care giver AT ALL TIMES.
This is a demonstration organised by whanau, for whanau. It's about protecting our futures. Mauri ora kia tatou, na Lissa Kingi-Waiaua raua ko Rueben Taipari.