Frequently Asked Questions
1. What does Engage Aotearoa/CMHRT do?
Community Mental-Health Resources Trust governs the operations of the Engage Aotearoa website to share recovery tools and resources with individuals in the community. CMHRT has a free Resource Licence from Engage Resources Ltd (the original creators of this resource) to deliver the website and use The Engage Model to connect individuals in the community with the resources they need to recover from mental-health problems or support someone they know.
2. What makes you qualified to promote recovery?
•  Our personal experiences of mental distress and recovery, utilising mental health services, supporting others to access those services and also providing mental health services ourselves.
•  Our service director has a Master's level psychology degree with first class honours and bachelor's qualifications in psychology and employment relations.
•  Our service director is supported  by a team of other qualified people – including a registered psychotherapist and a counsellor.
•  Our services are informed by sound, empirical, up to date research.  If you would like a list of references informing our work, please contact info@engagenz.co.nz and we will email it to you.
•  We are experienced.  Our service director has facilitated many workshops with many different groups including the Mental Health Foundation, the Like Minds Like Mine programme and of course Youthline.  We are guided by experience in designing and delivering workshops to service-users, school kids, psychiatrists, social workers, university students, mental-health nurses and occupational therapists.
3. Where are you based?
•  We work from our home offices and out in the community.  Engage Anxiety Education and Support Groups are conducted at Youthline.
4. What is a cognitive behavioural approach?
This approach to understanding people emphasises the reciprocal relationship between cognition (our thoughts) and behaviour (what we do).  Further than that, the approach shows how these interact with and are influenced by, our bodies, our environments and our emotions to give rise to our subjective experiences, what we learn about the world and how to survive it.  

The Coping For Recovery Information Sheet

discusses how some of those survival strategies have positive impacts on our wellbeing, but others can harm our mental health.
A combination of cognitive therapy and behaviour therapy, cognitive behavioural therapy (CBT) is the most widely recognised, empirically established treatment for just about everything (most of the time).  This lends a great deal of weight to the theory and research that underpins it.
Engage Aotearoa does 

not

offer CBT.  We are informed by the cognitive-behavioural approach; our strategies are based on that understanding, but we do not offer treatments nor do we teach other people to offer treatments.  We direct people to effective treatment and we share information.
The results of a pilot study of Engage Group showed that simply learning about the cognitive-behavioural approach to understanding human experience and receiving support, helped most people reduce their symptom severity.  It didn't cure anyone, but it helped them along.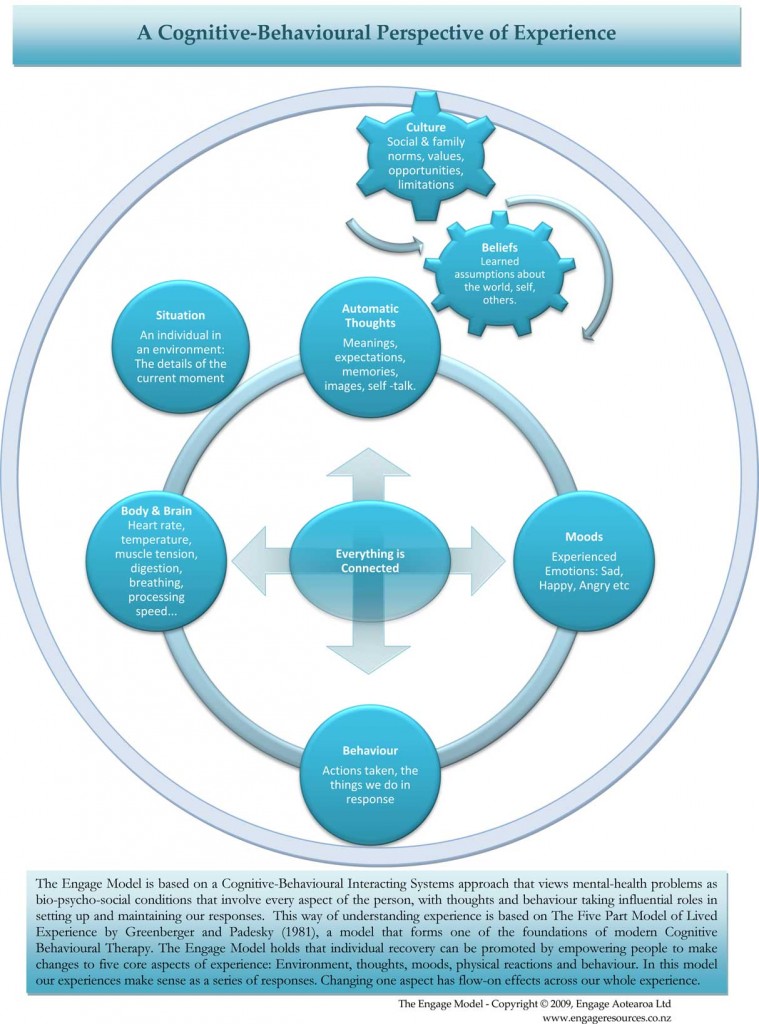 5. What does transdiagnostic mean?
•  Transdiagnostic means across diagnosis.  A transdiagnostic approach to psychology focuses on several symptoms and tendencies that appear to be common across multiple diagnostic categories of mental disorder and forms of distress.
•  It may be that these commonalities form a cluster representing a vulnerability to any disorder, and other factors interact with them to determine the form that the disorder takes, be that depression, bipolar, schizophrenia or an anxiety disorder.
•  CBT Treatments targeting these commonalities as they relate to anxiety disorders of every kind have reduced anxiety symptoms AND the severity of dual, untargeted diagnoses such as bipolar disorder, depression, eating disorders and some somatoform disorders.  This suggests that no matter what diagnosis we have, human beings find a lot of the same things helpful.
•  We do not conduct these kinds of treatments.  We do however apply the same approach to understanding what kinds of information and supports people seeking recovery might need.
6. What is Mental Illness?
Download the Mental Illness Info sheet.
7. What is Recovery?
Recovery is the journey to improved wellbeing for someone who has experience of mental unwellness. It does not mean a return to the days before unwellness – we need to go forward not backwards. Recovery is not about never experiencing unwellness. Recovery means learning from our experiences and actively working towards the kind of life and subjective experience that we want to have; recovery is about learning to give ourselves what we need. Unlike people who have never experienced mental disorder, we need to learn or re-learn skills and new ways of being that promote our resilience to stress and distress. There is more information about recovery in the What Is Recovery? Information Sheet.
8. What Happens If Someone Reports Abuse or Serious Misconduct using The Voice Box?
In cases of abuse and serious misconduct, we strongly believe that official action needs to be taken with the proper regulatory bodies. If you report serious misconduct using The Voice Box our first concern is for your safety; we will contact you and offer you support and referrals. Our next concern is for the safety of the rest of the community: We will support the person to take their experience to the appropriate bodies so that the necessary action can be taken. If they prefer, Engage Aotearoa or an advocacy service can take their experience to the commission on their behalf. Our final concern is for the health of the organisation at which this misconduct was possible; we support the organisation to identify ways in which they can strengthen best practice at their service in the future.
9. What Happens to the Information I Submit via The Voice Box?
Your information and identity will be kept confidential to the Engage Aotearoa team. Your information will be stored in a coded folder that only our Service Director has access to.  There will be no way for a service to identify who submitted the feedback about them. Our communications to the service will refer to you in the third person as 'he/she'. We summarise your feedback and put it in our own words, so that no one can tell who might have shared the feedback with us.
10. How do I know if Engage Group Education and Support is Right For Me?
You meet all of the Eligibility Criteria.
You are ready to start making some changes.
You do not yet want/feel ready to take part in a full group treatment or to talk a lot about your personal history. If you are ready for those things, we suggest you look through the Community Resources Directory to find a treatment service and go for it!
You have anxiety experiences that relate to phobias, obsessions or compulsions, social anxiety, health anxiety, panic attacks, post-traumatic stress responses, generalised anxiety or any kind of anxiety. It may be that you have been diagnosed with an anxiety disorder or you may not have any anxiety-related diagnosis at all. You may have a different diagnosis altogether, but still find anxiety is getting in your way.
You want a safe place to practice new skills and new ways of being, with people who are likely to understand what you are going through.
You want to understand anxiety, where it comes from, what it is for and what you can do.
11. What Can We Do as Whanau or Friends?
Inform yourself about what they're going through and find out how you can support them. If it is possible, we recommend talking to the person with respect and compassion, and asking them what you can do to understand and help.
We also recommend you read the Supporting Recovery Information Sheet on the Information Resources page.
If you can hang in there without judgement, you are helping.
Use the Community Resources Directory to find ways of informing yourself, getting positive messages about unwellness and finding ways to help your friend or family member forward.
If you find yourself feeling frazzled and fed up with it, access some support services yourself. Supporting Families is a wonderful place to start.
12. What is Positive Psychology?
Positive Psychology is an approach to the study of human experience that focuses on looking for the ingredients of positive experiences like happiness, wellbeing and resilience, instead of focusing only on problem areas.
13. What do you mean when you say your team all have personal experience of recovery or supporting someone they care about?
Our operations team have all had experience of mental-health problems and are at various stages along the journey towards improving our wellbeing. Some of us still experience periods of unwellness now and then and we continue to use mental-health services when we need them. Some of us take medication as part of our ongoing recovery, some of us have previously taken medication and some of us have never taken medication. We have used different kinds of therapy and support services as well as non-mental-health activities like poetry groups or art classes or employment.
So when we say we all have 'experience of recovery' we don't mean that we are all 'fixed' and over it now. It means we are learning to live well in the presence or absence of mental-health problems, whatever that looks like for us. Most of us also have family members or friends with mental-health problems who we are key support people for and we acknowledge the different challenges we face when supporting someone else.  Our Trust Deed states that board members must have personal experience or experience of being a support person.
When someone in our team gets unwell, we take time out from our duties or reduce our duties until we've put our self-care strategies into action and feel ready to return to full capacity again. We have an open team and we work together to fill the gaps when someone needs time out or help juggling tasks, knowing the support will be returned should we need it.  In this way we try to promote recovery by modelling a way of empowering each other to have the ability to live well in the presence or absence of mental-health problems.
We think having team members and board members at different stages of their journey is a strength, because it allows multiple different current perspectives to be incorporated into what we are doing. We don't have just one agenda or one perspective to push other than access to recovery resources, but it is hard to remember to reflect every angle at all times and our team strongly tends towards holistic bio-psycho-social understandings of mental health. If you feel your recovery perspective isn't represented or addressed within any of the resources or information on this website, please contact us.
We are regularly updating the website and all resources – your perspective is bound to be shared by other visitors to the site. By sharing your feedback with us, we can enrich the Engage Aotearoa website for everyone.