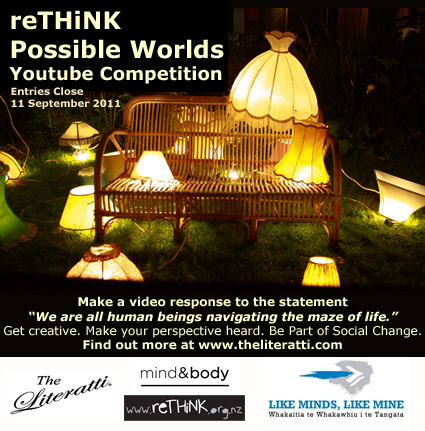 Be part of reTHiNK Possible Worlds with The Literatti and you could win an awesome IDEOS X5 Smartphone worth $500 thanks to 2Degree mobile!
The main point is being part of a powerful project for social change, but you also get a fantastic opportunity to showcase your work and your perspective, as well as the chance to win a flash new piece of technology to help you stay connected!
All you need to do is make a video response to the statement 'We are all human beings navigating the maze of life'.
You can make anything from a simple journal-piece in front of your web-cam to a moving image work of art, a spoken word performance piece, a music video or a short film.
Entries close on September 11th – so it's time to get creating!
Visit www.theliteratti.com to check out the reTHiNK Possible Worlds guidelines and upload your entry.
Proudly funded by a 2011 reTHiNK Grant from Like Minds, Like Mine at Mind and Body Consultants Ltd.