Enrolments are now open for three new Express Yourself Youth Development creative arts courses for youth aged between 13 to18 who are experiencing mental health issues.
Toi Ora Live Art Trust are working together with Art Station and Auckland Council to bridge the gap for Auckland youth who come into contact with mental-health and other support services, with the exploration of creativity as a proven means to enhance youth development, recovery and maintain wellbeing. Participants will have the opportunity to participate, develop and communicate their artistic expression, in a supportive and structured environment.
The pilot programme is FREE.
Photography at Art Station in Term Two on Wednesdays May 2nd to June 6th.
Music at Toi Ora Live Art Trust and Screenprinting at Art Station in Term Three on Wednesdays July 25th to August 29th.  
 All courses start 3.45 to 6.15pm. ( This may change to 4pm. if required) and run on Wednesdays for six weeks.
Location: Art Station at 1 Ponsonby Rd, Ponsonby for The photography and screen-printing courses. Toi Ora Live Art Trust at 6 Putiki Street Grey Lynn for the Music course.
Contact erwin@toiora.org.nz for more information or call 09 360 4171.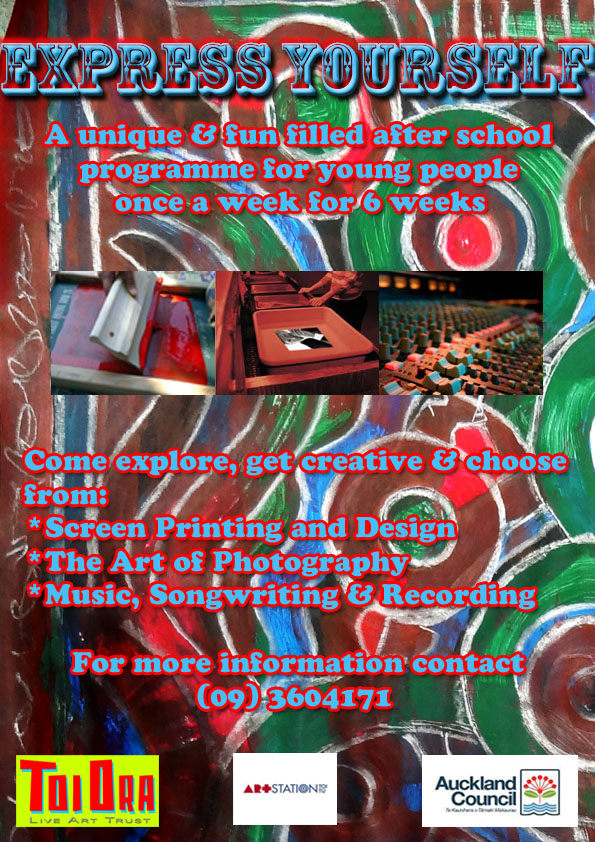 Brave New Design.
with Ross Liew from Cut Collective 
at Artstation
Design and Print on T-shirts, Posters and more. This class will teach you how to transfer hand drawn or computer generated imagery on to t-shirts, posters etc using the technique of silkscreen printing. Be creative and make a statement with your t-shirts! All materials supplied.
Music Song writing and Recording 
A comprehensive and fun course in Music. A chance to explore your creative music style. Develop song writing techniques music composition and then get to record your achievements.
Frame Your World Photography Workshop
at Artstation
with Tanja Nola
Students will be introduced to the art, science and magic of black and white photography. You will be taking photos with pinhole cameras, making sun pictures and photograms with photographic paper and chemicals, and learning how to use equipment in the darkroom.
You will be encouraged to develop your personal interests, to see the world from your own point of view and to identify the things that are important to you. In this workshop students will discover their own way of making photographic images while learning new techniques and methods.